16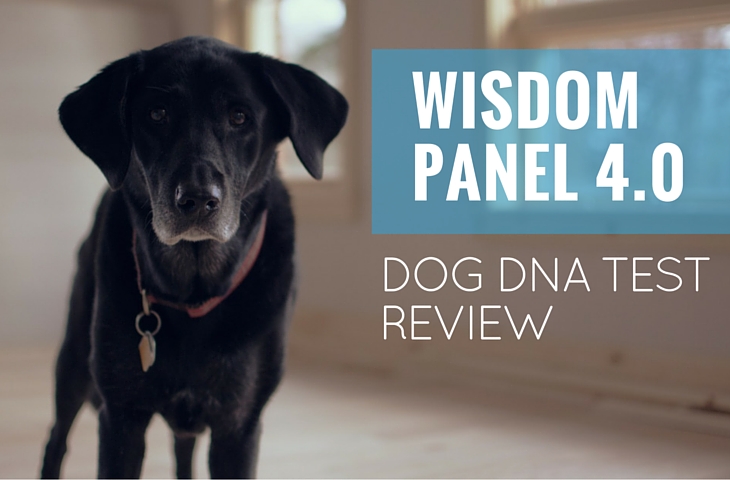 Wisdom Panel 4.0 Dog DNA Review 2018
Wisdom Panel 4.0 is the latest and greatest in the line of Wisdom Panel's dog DNA test kits.
Wisdom Panel 4.0 takes all the great features of past Wisdom Panel test kits, along with some new added features.
New Features:
Wolf and Coyote Detection. Identifies breed-related genetic markers that indicator wolf and/or coyote ancestry.
MDR1 Genetic Mutation Testing. Tests your dog for multi-drug sensitivity, which can help prevent instances of serious adverse drug reactions.
EIC and Traits Testing. Exercise-induced collapse (EIC) is an inherited genetic disorder that affects a dog's nerves and muscle (first identified in Labrador Retrievers). It is the result of a mutated DNM1 gene, and is characterized by notable exercise intolerance in otherwise normal dogs.
Existing Features:
Easy Cheek Swab for DNA Sample. Once you've ordered and received your dog DNA test kit, use the included cheek swab (along with simple step-by-step instructions) to collect a sample of your dog's DNA. Then seal the sample and send it to the Wisdom Panel lab for testing.
In-Depth Breed Analysis. You'll receive a comprehensive breed report for your canine, showing different breed percentages of your dog's genetic make up, along with a host of other detailed information such as possible breed-related behavior issues to look for, alerts for potential health problems, adult weight expectations, and more.
2-3 Weeks To Receive. After you've send in your dog DNA sample, you should get your ancestry report within 2-3 weeks.
Goes Back to Great-Grandparent. See your dog's breed ancestry as far back as your canine's great grandparents.
Mutt, Purebred, or Designer Dog. Wisdom Panel lets you choose your dog DNA test based on whether you are trying to identify a mixed breed dog, purebred dog, or a designer dogs. This specificity helps lead to even more accurate results.
Great Customer Service. Wisdom Panel has been recognized for their excellent customer service and quick response time regarding customer concerns and issues.
For a different look at our review of Wisdom Panel 4.0, check out our video below:
What You'll See In Your Wisdom Panel 4.0 Report
1. Ancestry
Wisdom Panel 4.0 analyzes your dog's DNA marker pattern and predicts the most likely combination of pure and mixed breed dogs from your canine's last three ancestral generations, using 11 different algorithm models and over 18 million calculations for the utmost accuracy.
In the ancestry section, you'll see you snapshot of you dog's ancestral makeup, along with a canine family tree.
2. Breed Details
In the breed section, you'll see a detailed analysis of the major breeds that makeup your pup. Wisdom Panel 4.0 provides a description of the highlighted breed, along with physical and behavior traits to look for in your dog.
You'll find several pages like this, each featuring a different breed that makes up a strong genetic component of your dog.
3. Mixed Breed Components
The mixed breed components section shows areas of your dog's ancestry that go back beyond the three generations that are tested for.
Detailed accuracy can not be predicted past three generations, but Wisdom Panel provides genetic breed groups that they believe have a strong statistical likelihood of existing somewhere in your dog's deeper ancestral roots.
See what one family learned about their mixed breed dog in the video below:
4. Breeds Tested
Here, Wisdom Panel shows a list of all the breeds that were tested for with your dog, showing any varying degrees of evidence.
5. Certificate
Get a printable certificate showing your dog's genetic background.
6. Health
The health section shows the results of your dog's test for the multi-drug sensitivity, exercised induced collapse, your dog's predicted adult weight, and physical traits.
The traits section is especially interesting, showing traits related to coat color, coat length, and coat style. You'll also see genetic trait markers related to tail length and ear cartilage.
Where to Buy Wisdom Panel 4.0
Wisdom Panel 4.0 is only available for purchase through the official Wisdom Panel website.
Older editions, such as Wisdom Panel 3.0 are available online via Amazon, but this version lacks some of the newer features of Wisdom Panel 4.0
Wisdom Panel 4.0
Genealogy / Family Tree Data

Health Data

Breed Database

Price
Summary
Wisdom Panel 4.0 provides a hefty dose of info on your pooch, from showing your pup's lineage as far back as the great grandparents, to great assessments of your dog's behavior and breed influences.
The health data is better than most, testing for the major common genetic diseases that owners would want to be aware of, as well as predicted adult weight.
Wisdom Panel has a large and reliable breed database at their disposal, so accuracy isn't an issue. Lastly, the price is quite affordable, especially compared to more expensive dog DNA tests such as Embark.